Banking system must play a leading role in development, says Diaz-Canel
Written by Radio Rebelde

Published in

Cuba
Featured
Miguel Díaz-Canel, President of the Councils of State and Ministers, stressed the need that the Cuban banking system plays a bigger role in the development of the country.
"There is an essential relationship between banking services and the domestic economy, which should focus on financing productive chains, the most active role of commercial banking with those companies that do not resort to credit, and support for the fight against disorder in the deposit of cash. And with regard to the population, it is necessary to simplify procedures, queues, increase banking penetration, and prepare people for the use of these services, he said
He said it is also necessary to understand the importance of the banking system in the implementation of monetary, financial and credit policies, as well as the decisive role it must play in broadening the road to electronic commerce.
Diaz-Canel also discussed the need for a more efficient public administration that conveys confidence to individuals, the business system, the non-state sector, investors, and insisted on the effective development of cadre policy.
He then spoke of the need to create favorable work environments that allow the realization of professional aspirations, especially of young people, that facilitate overcoming, as strategies to face the exodus of qualified personnel, without ignoring, of course, the salary motivations.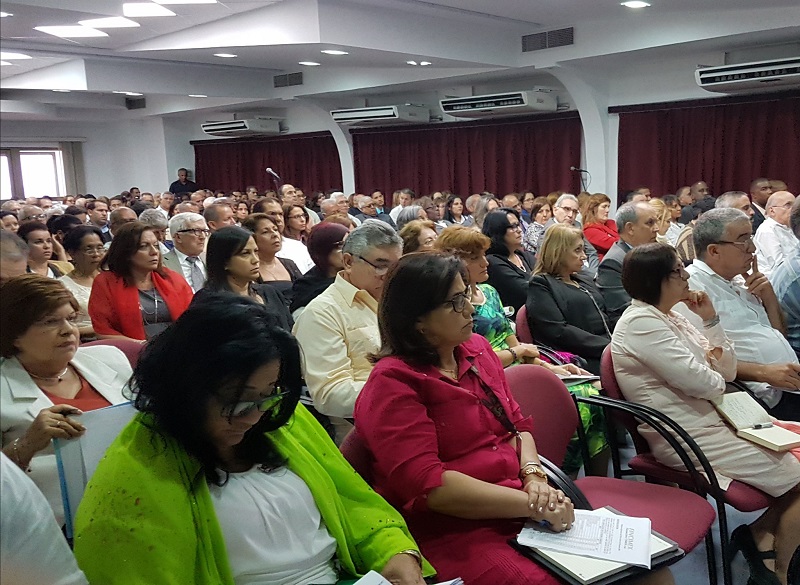 The cadres, in all sectors, but especially in this one, agreed Miguel Diaz-Canel, must be distinguished by honesty, sensitivity to address the problems of the population and the culture of detail. This undoubtedly has an impact on the quality of services, which should be carried out with less bureaucracy.
He also insisted on the value of social communication in its performance, on the development of strategies that foster a culture about banking services and their advantages and encourage the use of all banking instruments by the business sector.
In his speech, Díaz-Canel emphasized the importance of continuing to develop, on the one hand, electronic government, with the computerization of all internal processes and services to the population, and on the other, electronic commerce, with the banking of services, a process that can contribute to the regulation of the non-state sector. And it did not overlook the impact of scientific research in the search for innovative solutions. Hence the value of alliances with study centers and universities.
"The economy has to be developed with science; the modernization of the banking activity takes science," he said. (ACN)