The Eclectic and well-design Guash Palace
Written by Laura Barrera Jerez

Published in

Culture
Featured
It was only necessary two assistants to build his palace in Pinar del Río province, and over a century later, its decorative figures are still impressive, including its architecture with an eclectic style influenced by the Catalan modernism.

According to some written records, the plots of land where the building was constructed were part of the farm number 385 which was known as 'Cocuyo' and was sold to Francisco by the heirs of Juan Manuel Cabada. Its buying was carried out on August 20th, 1909 when it was stated the construction of that palace in a plot of land with 60 meters in its front and 40 meters in its back.

"Both the building plans and the carrying out of that project was carried out by the own Francisco Guash, including the elements which were used for its ornamentation. It is enough to say about the originality of that construction and the most valued orders of the architecture are represented through different phases. There are an Egyptian column, a Dorian capital, an Arab pointed arch, an Indian porch, respectively." The Press from that period, highlighted.

Francisco Guash, who was a doctor and an artist as a vocation, designed the stained-glass windows and painted some paintings for the walls. He made a great part of its furniture and designed the lamps which were made in Europe, later.

However, it is highly chocking that after many years, that palace is more affected by the atrocities of the human ignorance than by the pass of the time, instead.

Unfortunately, there has been a kind of bus station for those who travel from Pinar del Rio province´s motorway to Havana city and it is contrasting that there are many people who get there due to that reason.

That court has had even the choking image of skateboards and there have been even many local teenagers who have ridden themselves on skateboards over its entrance floor.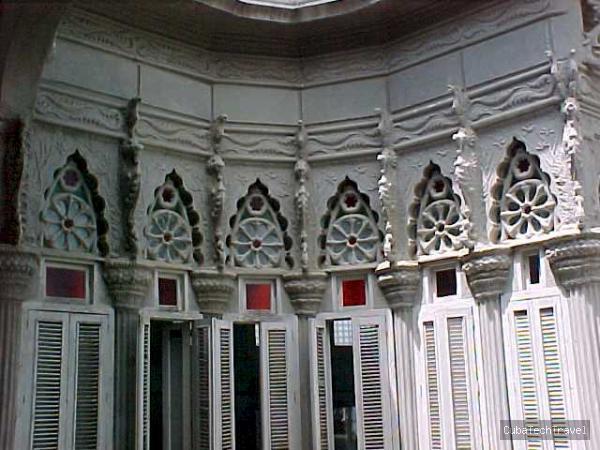 For such a long time, there were inappropriate patches carried out there which covered the spaces of the absent glasses and there was even graphite on the wood and walls, and those who have watched it carefully, have seen many times even the accumulated dirt in its corners.

At present, that palace is immersed in a refurbishing process on the occasion of the 150th anniversary of Pinar del Río city to be held on September 10th, however, the strategies to preserve its cleanliness, the aesthetics and facing those who do not value the architectural heritage.

On March 8th, 1979 was inaugurated the Tranquilo Sandalio de Noda Natural History Museum by paying homage to that precursor genius of the sciences in the western part of Cuba. That facility had up to eight exhibition rooms of the Cuban fauna united by some exotic exemplary.

It has also a central courtyard where it is shown the autochthonous vegetation and some prehistoric animals which are represented at a natural scale ever since.

After attempting to imagine its entire previous splendor, we are feeling a kind of guilty sensation while asking ourselves: Would it be enough its material refurbishing process before being aware of the value of that palace that is an unequivocal symbol of Pinar del Río province.