One day, John Lennon sat down at a park in Vedado district to enjoy the sun and the moon of this warm Caribbean nation.

He has been there ever since, even for the citizens´ pride who thank the one who created and shaped that natural-size work that has also become a tourist attraction.

José Villa Soberón is the creator of such popular and well-achieved sculpture that is the first one of a series that is increased by the passing of time.

It has been checked its positive impact, just like the image of the sculture entitled ´EL Caballero de Paris´ which is almost gret by the passerbies of the city's historical center when they passed by its side to the extent that they also created the myth about caressing its beard turning its bronze composition into a gild color.

What is then the opinion about the local Benny Moré statue?

Benny Moré, who use to be locally known as the ´Barbaro del ritmo´, seems to dance at a popular crossroads in Cienfuegos province and it is also great the one entitled ´Madre Teresa de Calcuta´ that seems to be meditating on the idyllic environment around the San Fran Francisco de Asís. They attend with flowers and prays and the believers in their miracle.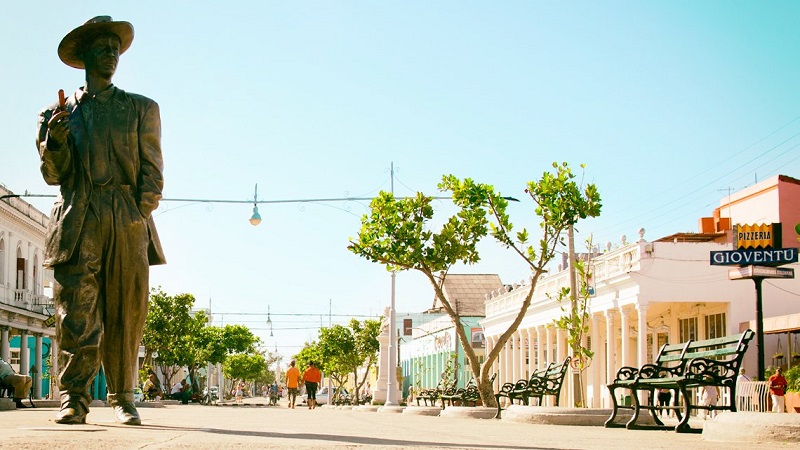 In addition, the sculpture made of bronze about the Spanish dancer Antonio Gades that is leaned to a column as if he was recovering from walking through the Cathedral Square.

In other words, José Villa Soberón multiply that way of creation that features him and made us always to way a brilliant proposal.
However, it is not only a proper view of the good work, imagination and creativeness but also it is the genuine art about taking into the metal the anatomic and psychological features of each character by providing them a new life and movement beyond death.

It is the power of the realism increased through those legendary figures, which pay homage to traditional characters, and those ones who con persist in remaining in the peoples´ memory.

Due to all those reasons, it is well known the selection of that genuine artist as the National Painting Award winner in 2008 and he will continue with its endless creativeness.