Global Solidarity, Shock After New Zealand Terrorist Attack
Written by Telesur

Published in

World
Featured
Facebook launched a crisis response page for Christchurch, to enable people in the region to identify themselves as "safe" as well as for others to be able to extend help.
Political and Islamic leaders across Asia and other regions of the world have expressed shock and disgust at the deadly terrorist attack which took place at two mosques, during prayers, in New Zealand Friday.
RELATED: N. Zealand: 49 Dead, 1 Charged With Murder In Terrorist Attack
Following the heinous attack, New Zealand Prime Minister Jacinda Ardern said many of the people caught in the crosshairs of the shooter may have been migrants or even refugees.
"They are us. The person who has perpetuated this violence against us is not. They have no place in New Zealand."
French, Norwegian prime ministers say extremism continues to permeate
President Emmanuel Macron says France "stands against all forms of extremism and acts with its partners against global terrorism," sending condolences to the victims and their families.
Erna Solberg, Norway's head of government, said "the fight against extremism in all its forms must come high on the agenda," and that the shooting in Christchurch brought back memories of Anders Breivik, the right-wing extremist who killed 77 people at a summer camp in 2011.
"This shows that extremism is still flourishing in many places."
Mayor of London, President of the European Council reflect on attack
A heartbroken Mayor of London Sadiq Khan said the UK city stood with the people of Christchurch in the face of the "horrific terror attack." Along the same vein, President of the European Council Donald Tusk took to Twitter to extend condolences and offer solidarity to PM Ardern and the people of New Zealand.
@SadiqKhan Heartbreaking news from New Zealand this morning where innocent people have been murdered because of their faith. London stands with the people of Christchurch in the face of this horrific terror attack. London will always celebrate the diversity that some seek to destroy.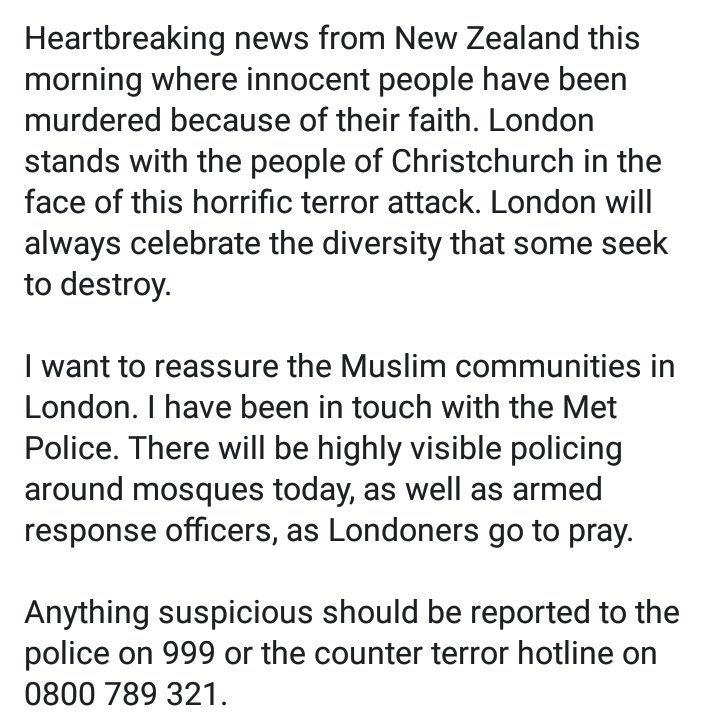 Indonesia condemns New Zealand attack
"Indonesia strongly condemns this shooting act, especially at a place of worship while a Friday prayer was ongoing," Foreign Minister Retno Marsudi expressed.
Malaysia shows solidarity
Anwar Ibrahim, the leader of the biggest party in its ruling coalition, added "I am deeply saddened by this uncivilized act, which goes against humanistic values and took the lives of civilians," noting that "we extend our deepest sympathies and condolences to the families of the victims and the people of New Zealand."
Turkey speaks out after the terror attack
"This attack shows the point which hostility to Islam and enmity to Muslims has reached," Ibrahim Kalin, Turkish President Tayyip Erdogan's spokesman stated on Twitter, condemning the "racist and fascist" attack. "We have seen many times Islamophobic discourse against Islam and Muslims turning into a perverse and murderous ideology. The world must raise its voice against such discourse and must say stop to Islamophobic fascist terrorism."
India shows support for New Zealand
Kamal Faruqui, founder of India's All India Muslim Personal Board NGO said the attack was "highly condemnable," adding that "an anti-Muslim virus is spreading across the world.... "people of all religions should be very worried."
Afghanistan expresses shock
Afghan ambassador to Australia, New Zealand and Fiji, Wahidullah Waissi, said, on Twitter, "my thoughts are with the family of Afghan origin who've been shot and killed at this heinous incident."
Pakistan PM condemns attacks
Pakistani Prime Minister Imran Khan says that "terrorism does not have a religion," as he condemned the attack on Christchurch before commenting that he blamed "these increasing terror attacks on the current Islamophobia post-9/11 where Islam & 1.3 billion Muslims have collectively been blamed for any act of terror by a Muslim."
Australia's Prime Minister flags to be flown half-mast
Australia's Prime Minister Scott Morrison stated that there is "no place" in Australia and New Zealand for extremism and ordered flags to be flown at half-mast as a mark of respect.
Facebook launches a crisis response page
Facebook launched a crisis response page for Christchurch, to enable people in the region to identify themselves as "safe" as well as for others to be able to extend help through offers of food and shelter to affected people.
US Police beefs up security at mosques
Police officials in some cities have reassessed security at U.S. mosques.
"There are no known credible threats to our mosques in Minneapolis and we will be providing additional patrols," the Minneapolis police force said., while Los Angeles police extended thoughts and prayers to the people of Christchurch following the "horrific" attack and adding that they too would be providing "extra patrols around mosques" in their districts.