1 dead, multiple injuries, 200 evacuated in Kazan, Russia, shopping mall blaze, collapse
Written by RT

Published in

World
Featured
One person has died and at least 13 others have been injured in a shopping mall blaze in the Russian city of Kazan. Two hundred people have been evacuated, while the cause of the fire is being determined.
"Some 4,000 square meters has been affected by the blaze, the fire doesn't spread any further, and we're putting out separate spot fires. The left part of the building has collapsed, the firefighters units can't enter as there is a danger of further destruction," Emergency Ministry representative Marat Rakhmatullin told TASS.
Three out of five people have been pulled from the rubble; the other two more remain unaccounted for, local media reported. A rescuer was among those trapped under the debris of the collapsed entrance to the shopping mall.
Investigators are looking into several suspected locations where the fire may have started: on the first floor of the canteen, on the trading floor and pillows having caught fire. A gas leak has been addressed: all communications were turned off in time to prevent the fire spreading further.
The 'Admiral' is essentially a clothing market. Riot police have been sent to the scene as vendors are storming the building to salvage their goods from the inferno, interfering with rescue and containment efforts, according to the Russian Interior Ministry.
Three helicopters are set to join the rescue operation. A railway line is near the scene, so a firefighters' train could be also involved in tackling the blaze.
The most catastrophic fire in Russia in recent years occurred in 2009 at the Lame Horse night club in Perm, which killed 156 people. After a pyrotechnics display ignited the nightclub's wooden ceiling, many in the audience were unable to escape to poor fire safety precautions. The club's owner was jailed for 6.5 years over the blaze.
READ MORE: Nightclub owner jailed over deadly Lame Horse blaze
Eight people were charged in connection with the fire, including pyrotechnics experts, regional fire inspectors and the club's managers.
PHOTOS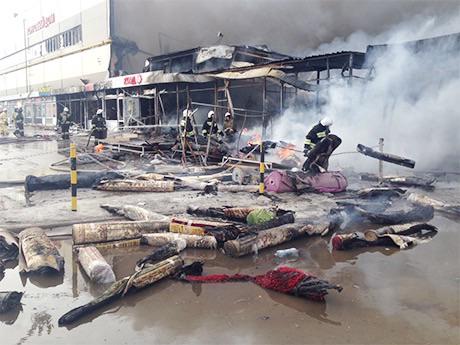 Last modified onWednesday, 11 March 2015 10:07